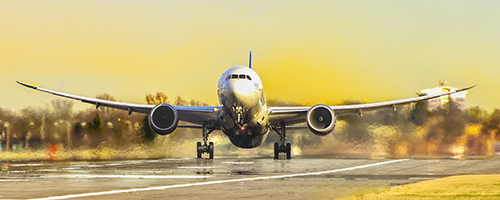 Access to Sri Lanka
Sri Lanka is directly accessible by all major carriers from their closest hubs. The National Carrier SriLankan operates to London, Far East, the Middle East and Melbourne. The national carrier also offers easy accesses on its services for travel originating in any point in the United States, Canada , Australia and South America on code sharing flights via transit points London, Zurich and Paris in Europe, Bangkok, Singapore, Hong Kong and Tokyo. SriLankan Airlines also connects Colombo with all major cities of India as well as with Beijing and Guangdong in China.
Following air lines operate direct scheduled flights to and from Colombo.
Sri Lankan Airlines
Jet Airways
Emirates
Cathey Pacific
Air Arabia
Air India Express
Air India
Malaysia Airlines
Kuwait Airways
Kingfisher Airlines
Thai Airways
Air Asia
China Eastern Airline
Island Aviation
JetLite
Spicejet
Meridiana
Mihin Lanka
Oman Air
Qatar Airways
Royal Jordanian
Saudi Arabian Airlines
Singapore Airlines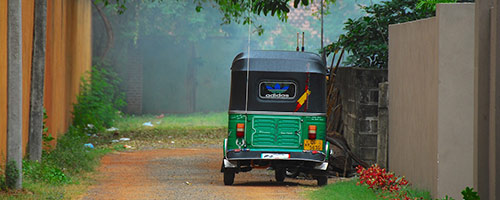 Travel Tips
While the distances are given in kilometers it is best that you plan your travel in terms of time as well. While roads are being fast upgraded congestion in some main highways and cities can cause delays. The best time for travel after an early breakfast or after lunch.The public transport system is dependent on Buses and Trains. Generally, these tend to be crowded during peak hours and before and after weekends on long distance routes.
Buses
A relatively inexpensive mode of travel. Buses are operated by the state as well as by private operators. On main routes connecting cities such as Galle, Kandy, Kurunegala and Colombo you will find comfortable air conditioned buses albeit at a premium price. The comfort when on long journeys is well worth the extra charge.
Trains
Slightly more expensive than travelling in a bus.. There is a high possibility of a seat on long distance trains. It is definitely the most interesting way to enjoy the scenic beauty of the island as the Railway lines were intended to connect cities to bring produce to Colombo in the shortest possible time, in an age where packing crates and jute bags were the norm and refrigeration was not easy. The Railway lines run through scenic mountain passes and long tunnels into the hills, and on bridges built on over tranquil lagoons and winding rivers.
Taxis (radio cabs)
Please do inquire with your Hotel Front Desk/ Reception, as many would be happy to provide you with a taxi cab. Cars may be hired for your visits to places of interest on a predetermined itinerary at an agreed price, with information being readily available through maps, and guidebooks
Three-wheelers
This is an option that many visitors are comfortable with. The drivers of these 'TUK TUKs' (an appropriate name resonant with the noise made) are capable of communication no matter which language you speak. The gesticulations and the ingenious expressions they devise to explain a point is a form of entertainmentin itself. Most of these now have fare meters and thus spares you the pain of negotiation, and are quite reasonable.
Domestic passenger flights
Those who would like to arrive at a destination faster and see the island with a scenic eye can use chartered flights from the Ratmalana Airport near Colombo. There is also an option to charter a light aircraft or book a private helicopter for transfers or day trips.
Information Service
The Tourist Information Center (TIC) run in Colombo by the Ceylon Tourist Board is located at 78, Steuart Place, Galle Road, Colombo 3. Tel:(+94) 112 437059(+94) 112 437060 , (+94) 112 437055
Kandy TIC – Headman's Lodge, 3, Deva Veediya, Kandy, 0812 222661. Open 900 hrs. to 1645 hrs. on weekdays. Saturday 0900 to 1300 hrs.
Negombo TIC – 12/6, Lewis Place, Negombo. Open 0900 – 1715 hrs.
Hikkaduwa TIC – Commercial Bank Bldg., Galle Road, Hikkaduwa. Tel : 09122-223397
Airport TIC – Located in the arrivals lounge of the International Airport, Katunayake and open day and night. Tel:11 2 452411
Tourist Police Units
Entry fees and photographic permit to archaeological sites
Starting from $5 which will go up to $30 (Age Limit 06 – 12 Years – 50 % of above value)
Currency used
Sri Lankan Rupees (LKR)
Time difference
Sri Lanka is 5.30 hours ahead of Greenwich Time (GMT +05.30)
Working hours & days
Normal working hours are from 8.30 am to 5.00 pm from Monday to Friday. Saturdays are half working days from 9.00 am to 1.00 pm With Sunday being a statutory holiday.These working hours may not be observed by all service providers that you will mostly be in contact with. It is therefore advisable for you to inquire what their working hours are.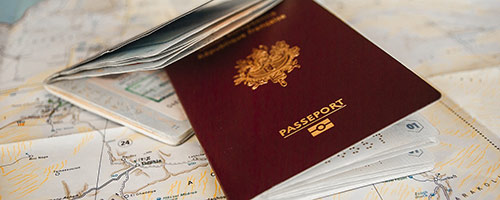 Visas
There are four types of Sri Lankan visas under which non-Sri Lankans can legitimately enter the country. Each visa contains information about the period of time and the condition/s of stay. A Visit Visa permits foreign nationals to enter the country and this type of visa is sub-divided into two categories, the Tourist Visit Visa and the Business Visit Visa. The Tourist Visit Visa, which is issued for a short period of time, is given to tourists who wish to come to Sri Lanka for travel purposes or to relax. Foreign nationals who wish to engage in business activities are issued Business Visit Visas for either single, double or multiple entries into the country. From the 1st of January 2012 the Department of Immigration and Emigration has specified that all Business or Holiday travelers to Sri Lanka must obtain Electronic Travel Authorization (ETA) in order to enter the country. The ETA fees differ based on the country of the applicant, the type of visa and duration of stay. Payments should be made through the ETA website and not at the port of entry to Sri Lanka.
The second type of visa is a Residence Visa and it allows non-Sri Lanka to obtain residence in Sri Lanka if they fulfill certain special criteria. The third type of visa is a Transit Visa which allows for foreign nationals to enter Sri Lanka for a short period of time when they are en-route to another destination. The fourth and final visa type is called Gratis Visa in which no fees are levied. It is granted to the holder of a Diplomatic or Official Passport.Irrespective of your Visa Type if you wish to extend your visa you need to make an application to the Department of Immigration and Emigration.For further guidance go to www.immigration.gov.lk/web/
Awareness to health and safety issues
Taking care of valuables
Always keep your valuables (money, passport, tickets, and jewelry) in the hotel safety deposit locker. You should not leave your valuables unattended on the beach or leave your money or passports in your baggage which may be unlocked.
Health issues
Generally, every town will possess a pharmacy and a qualified medical practitioner is not hard to find. If you are on medication please bring an adequate supply of your drugs. If you rely on prescriptions, make sure that your doctor indicates not only the brand name but also the generic name of the drug.
It is advisable to always drink bottled water. While the water supply in cities is treated they cannot be guaranteed as portable. Boiling water for drinking is a common practice in homes in Sri Lanka. You are advised to use bottled water with its sealed top intact.
Eco Sensitivity
When enjoying the natural beauty of our island please remember to remain silent whilst in forest trails. It is best if nothing is left behind, and fires should be lit only in designated camp sites. Always seek the assistance of a trained guide and try to avoid lone excursions. In case of an animal encounter, please do not try to harass, chase, touch, handle or feed.
Driving in Sri Lanka
If you rent a car with the intent of driving on your own please be fully briefed on all formalities you need to be aware of while driving in Sri Lanka. Please do inquire about road rules, traffic conditions and be aware of other drivers who may not be as careful as you.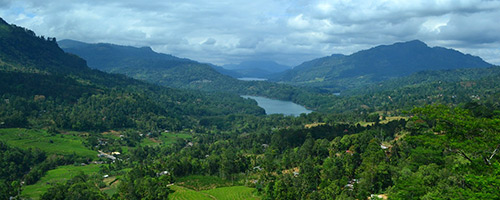 Climate
Sri Lanka's climate can be described as tropical, and quite hot. Its position between 5 and 10 north latitude endows the country with year-round warm weather, moderated by ocean winds and considerable moisture. The average temperature ranges from a low of 16 °C (60.8 °F) in Nuwara Eliya in the Central Highlands (where frost may occur for several days in the winter) to a high of 32 °C (89.6 °F) in Trincomalee on the northeast coast (where temperatures may reach 38 °C or 100.4 °F). The average yearly temperature for the country as a whole ranges from 28 to 30 °C (82.4 to 86.0 °F). Day and night temperatures may vary by 4 to 7 °C (7.2 to 12.6 °F). January is the coolest month, especially in the highlands, where overnight temperatures may fall to 5 °C (41 °F). May, the hottest period, precedes the summer monsoon rains.
Rainfall in Sri Lanka
The rainfall pattern is influenced by the monsoon winds of the Indian Ocean and Bay of Bengal and is marked by four seasons. The first is from mid-May to October, when winds originate in the southwest, bringing moisture from the Indian Ocean. When these winds encounter the slopes of the Central Highlands, they unload heavy rains on the mountain slopes and the southwestern sector of the island. Some of the windward slopes receive up to 2,500 mm (98.4 in) of rain per month, but the leeward slopes in the east and northeast receive little rain. The second season occurs in October and November, the intermonsoonal months. During this season, periodic squalls occur and sometimes tropical cyclones bring overcast skies and rains to the southwest, northeast, and eastern parts of the island. During the third season, December to March, monsoon winds come from the northeast, bringing moisture from the Bay of Bengal. The northeastern slopes of the mountains may be inundated with up to 1,250 mm (49.2 in) of rain during these months. Another intermonsoonal period occurs from March until mid-May, with light, variable winds and evening thundershowers.
Humidity
Humidity is typically higher in the southwest and mountainous areas and depends on the seasonal patterns of rainfall. At Colombo, for example, daytime humidity stays above 70% all year, rising to over 90% percent during the monsoon season in June. Anuradhapura experiences a daytime low of 60% during the intermonsoonal month of March, but a high of 79% during the November and December rains. In the highlands, Kandy's daytime humidity usually ranges between 70 and 79%.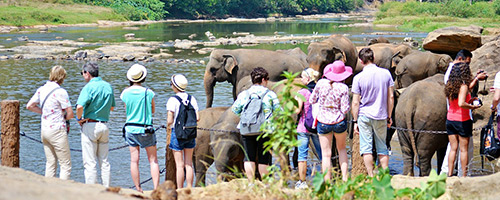 What to Wear
In Sri Lanka's heat the most practical and comfortable clothing is loose fitting, light cotton wear. This is applicable for most parts of the country as the weather is hot and humid. However the Hill Country is similar to an English spring with the temperature becoming colder in the night. In the mountains a good wool sweater is advisable for the nights while in the day time a jumper or light cardigan should suffice to keep the cold away. In general travelers should stick to casual wear which gives you more freedom while you explore the country. Women can wear bikinis when they are on the beach but when travelling around they need to be mindful of cultural sensitivities, so generally knee length shorts/dresses/skirts are advisable. Sleeveless tops or t-shirts are also fine unless one is visiting a religious site.
Travellers need to be properly attired when visiting sacred sites and shrines as revealing items of clothing are frowned upon and entry into such sites may be denied. Women travelers will need to cover their shoulder and legs so it is good to have a light scarf and sarong at hand to wear when necessary. Men should also note that long shorts or trousers paired with t-shirts or shirts would be the preferred option at religious sites. Sandals or flip flops are much more comfortable than shoes and when visiting temples or shrines they are easier to remove. However if planning on engaging in hikes up mountains or through jungle trails a good pair of socks and trainers would be the better option. Sunglasses, hats or caps are also a necessity to protect you from the bright rays of the sun.